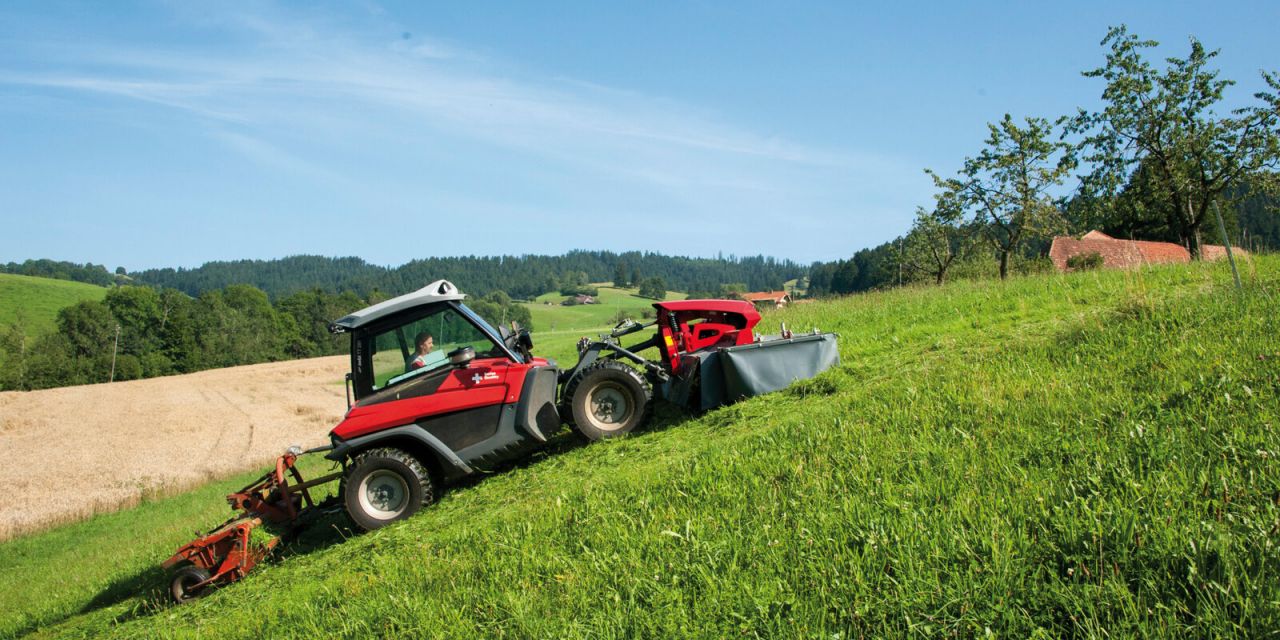 Aebi TT241+
The variable-speed hydrostatic drive brings nothing but benefits and has clearly established the Terratrac amongst steep-slope implement carriers. The continuous adjustment of the driving speed, precise manoeuvrability, the constant positive engagement between engine and wheels and the excellent, wear-free brake action of the hydrostatic drive are premium features that increase efficiency, save fuel and offer maximum safety.
Thanks to the hydraulic weight transfer system the attachment does not have to be manually adjusted to the terrain profile – this technology automatically handles it for you. This feature, combined with the lateral pendulum-type suspension, allows for precise alignment to the terrain, ensuring cleaner operation.
The intelligently interlinked technology automatically turns on the all-wheel steering system and lifts the rear hoist as soon as the front hoist is lifted. This saves you time and allows you to work smarter.
The Torsen centre differential ensures continuous distribution of the drive torque to all four wheels. This protects drive components and wheels, while also being easy on the ground. The optionally available T-Traction prevents front or rear wheels with no appropriate counterweight from slipping in challenging situations.
The powerful lifting gears make it possible to operate a wide range of attachments simultaneously. The hydraulic side shift at the front up to a total of 630 mm is fitted as standard. When mounting or demounting the attachments, the raising and lowering function and a freely selectable controller, can be conveniently operated from the outside.
In all Terratrac models, the touch of a button enables you to switch between front, rear, all-wheel or crab steering. Zero-point adjustment takes place automatically.
Automatic Drive Control (ADC): The ADC automatically adjusts the maximum driving speed to the attachment's power requirements. At maximum overloading, the drive power is reduced and the engine speed is increased again as soon as the power requirement on the PTO (Power Take-off) shaft is reduced. The Terratrac's driving speed is increased again without the driver having to intervene, enabling the engine to run economically within the optimum speed range.