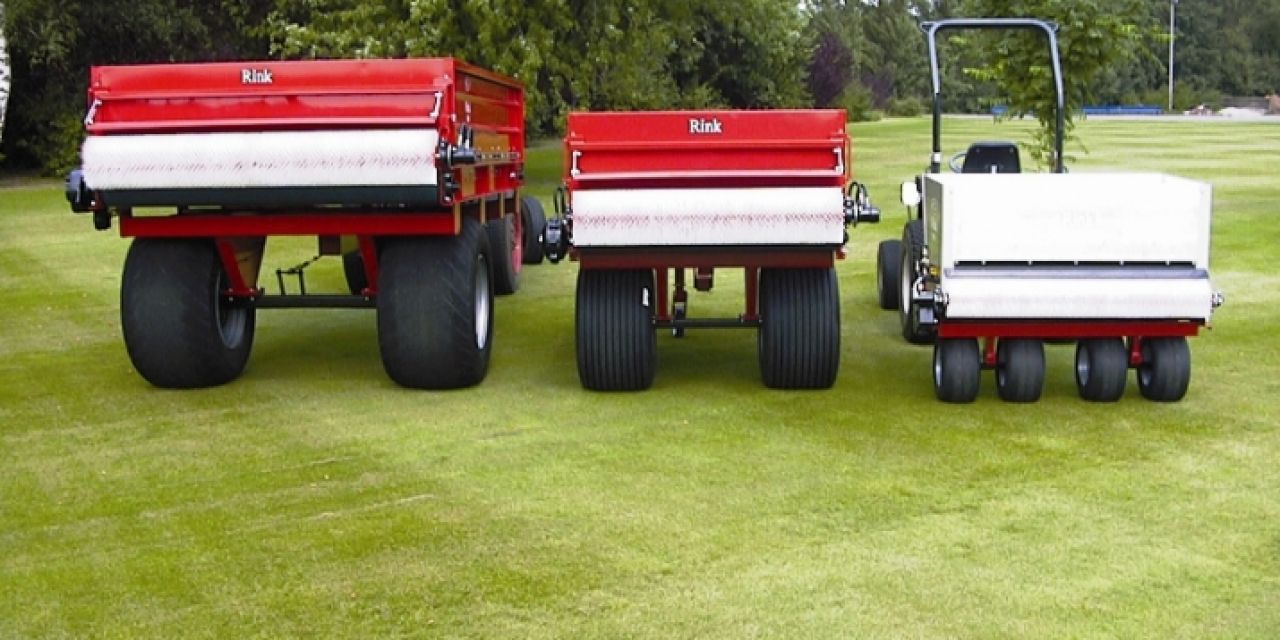 The Rink Range
A typical synthetic field loses 5 -10% of its infill over a year.
Rink SP950
Walk-in-front is powered by a 6.5hp engine, and the weight of the machine is evenly distributed over 7 wheels in order to minimize ground pressure.
Rink TB950
Tow behind is a wheel drive topdresser and can be pulled by virtuall any vehicle. The brush and conveyor belt are driven by the wheels (either 2 or 4 wheels driven), ensuring a consistant application rate.
Rink Spreaders for Utility vehicles (1204 / 1205)
The hoppers of the spreaders are made of aluminium to reduce the total weight, so that they can be placed on top of the utility vehicles.
Rink 1005
Is carried in the 3-point hitch of a tractor.
Rink 1010
The floatation tyres minimize ground pressure and the lightweight hopper is made of aluminium to aoid rusting.
Rink 1210
Is low to the ground for easy refilling and ensuring the operator a good rear view.
Rink 1520
Is extremely accurate while spreading.
Auxiliary tank and pump unit (Rink 1010,1210,1520)
Own 13hp engine (Rink 1010,1520)
4 pivoting wheels (Rink 1520)
Drysand plate/Hopper extension kit to 2.0m3 (Rink 1204,1205)
| | | | | | | |
| --- | --- | --- | --- | --- | --- | --- |
| Model | Spreading width | Spreading thinkness | Weight | Hopper capacity level | Tractor / Vehicle | Double acting Valve min. oil supply |
|  SP950 |  0.95m (37") | 0.3 to 10mm |  280kg |  0.33m3 |  self-propelled 6.5hp engine |  N/A |
|  TB950 |  0.95m (37")  | 0.3 to 10mm  |  190kg  |  0.33m3  |  Towed (any vehicle)   |  N/A  |
|  1204 |  1.80m (71")  |  0.3 to 10mm |  300kg  |  1.0m3  |  Cushman Turf-Truckster  |  N/A |
|  1205 |  1.80m (71") |  0.3 to 10mm |  300kg |  1.0m3 |  JD Progator/Toro Workman |  N/A |
|  1005 |  1.50m (59") |  0.3 to 10mm |  200kg |  0.75m3 |  25hp+    3-point hitch |  12L/min @120bar |
|  1010 |  1.50m (59") |  0.3 to 10mm |  270kg |  0.75m3 |  20hp+    3-point hitch |  12L/min @120bar |
|  1210 |  1.80m (71") |  0.3 to 10mm |  370kg |  1.0m3 |  20hp+    3-piont hitch |  20L/min @140bar |
|  1520 |  1.40m (55") |  0.3 to 40mm |  950kg |  2.0m3 |  25hp+    3-point hitch |  25L/min @140bar |