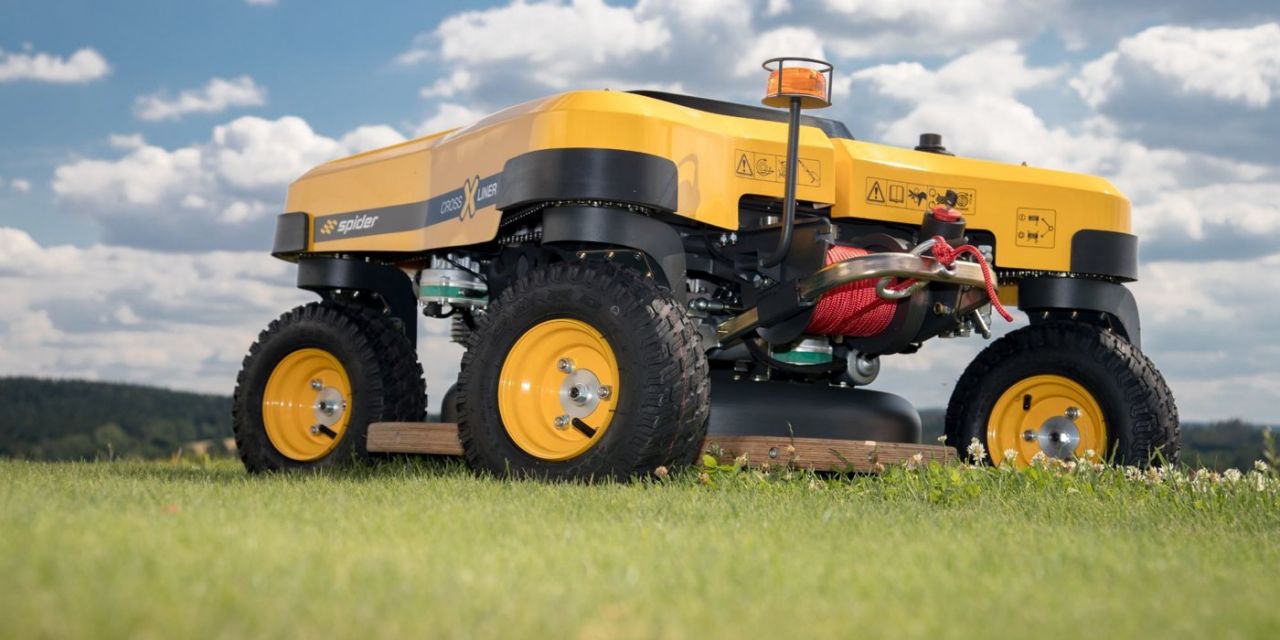 Spider XLINER
Main parts are made of high-quality material that gives the mower the ideal weight for mowing both frequently maintained areas and unkempt terrains.
CROSS LINER can easily cope with difficult terrains and turns around its vertical axis thanks to the skid steering function and unique wheel drive system. It is not necessary to turn the mower around, patented drive system allows for all directions mowing and it is so simple to guide the mower into the next mowing line.
The sophisticated design allows you to easily tilt the mower into the service position on the side and save space during winter storage. You can also quickly and easily access the mowing deck and engine.
Ideal for mowing both sloping and flat terrains.
CROSS LINER perfectly follows the terrain thanks to the terrain copying platform and is extremely maneuverable. It always leaves a perfectly trimmed lawn, even in places where there are many obstacles. Its size allows it to easily pass under solar panels.
Its low weight and unique steering system minimise soil erosion.
With help of the stabilizing winch the mower can work on slopes of up to 55 degrees.
CROSS LINER has been designed with maximum operator safety in mind. It is equipped with a brand new clutch system with our own design, which is the only one on the market to ensure that the blade stops within 2 seconds.
The integrated stabilizing winch increases stability even on the most extreme slopes.
Thanks to the remote control, the operator is not exposed to harmful vibrations, noise and exhaust gas emissions from the mower.
| | |
| --- | --- |
| Engine: | Honda GXV390 10,2HP / 7,6 kW |
| Cutting width: | 65 cm (center blade) |
| Height of cut | 4 - 10 cm |
| Dimensions  | 98 × 111 × 60 cm |
| Gross weight |  175 kg |
| Speed | 0 – 6 kph |