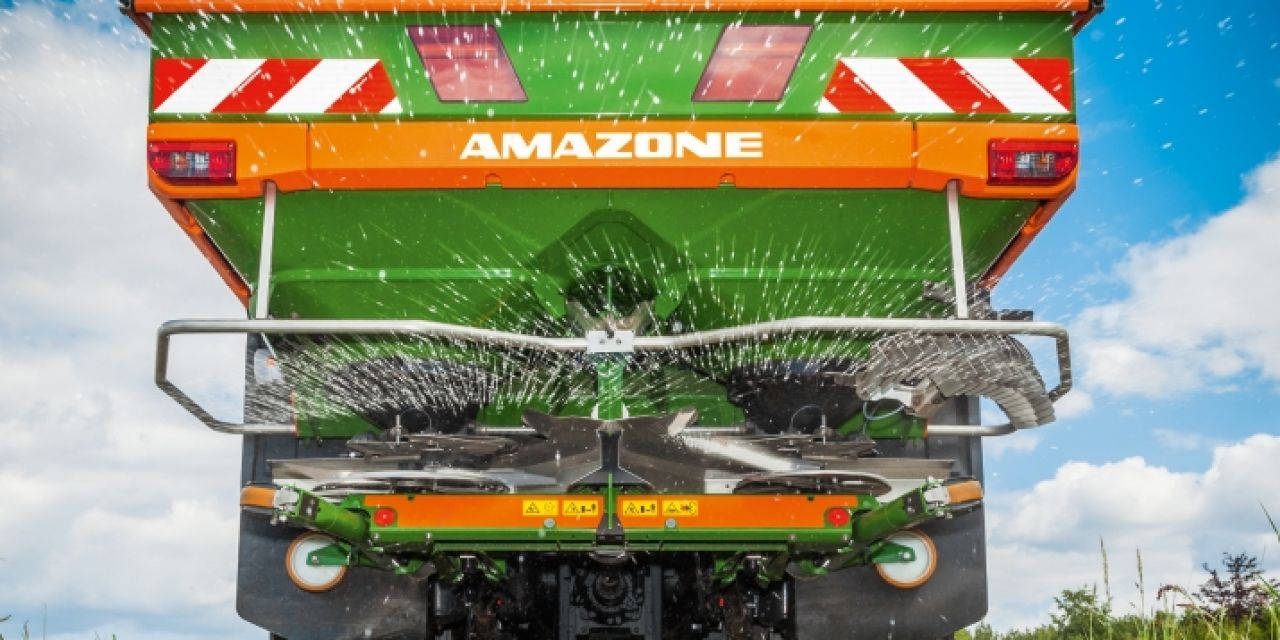 ZA Range of Mounted Centrifugal Broadcast Spreaders
ZA-X Perfect mounted spreader
Compact hopper with a low filling height, capacity 600 - 1750 litres. Accurate spread pattern at working widths of 10 - 18 metres.
The twin disc spreader for smaller to medium sized arable farms and grassland farms. The ZA-X Perfect allows convenient adjustment and the accurate spreading of all commercial types of fertiliser up to 18 m and with Urea up to 15 m.
We currently have a special offer on two new-shop soiled ZA-X1402 check them out here
ZA-M mounted spreader
Hopper capacities from 1000 to 3000 litres. For working widths from 10 to 36 metres.
The ZA-M twin-disc broadcaster, in hopper capacities up to 3,000 litres and spreading widths of up to
36m, is the ideal machine for both farming enterprises and contractors alike and places great value on
safety and reliability. The slow-turning, high capacity agitation system and the reduced disc speeds
ensure an even, granule-protecting fertiliser flow.
**Limited Special Offer** Amazone Stockman Special ZA-M2001 further informion here
ZA-V mounted spreader
The high outputs of up to 390 kg/min, and a maximum working width of 36 m, mean that areas of up to 33 ha/h can be covered.
With the ZA-V AMAZONE introduces a highly efficient fertiliser spreader which has been designed especially for high operational speeds of up to 30 km/h. ISOBUS communication, weigh cell technology and many other innovations make the ZA-V one of the most state-of-the-art fertiliser spreaders of its class.
The high outputs of up to 390 kg/min and a maximum working width of 36 m allow areas of up to 33 ha/h to be covered.
The strong frame with its favourable centre of gravity characterises the ZA-V as a robust mounted implement. The highquality, deep pressed hopper is manufactured in one piece and ensures an optimum fertiliser flow. Due to the different hopper extensions, the ZA-V can be equipped with the suitable hopper size from 1700 l to 4200 l to fit in with any farm size.
For the safe and precise border, side and water course spreading the ZA-V can be equipped with the Limiter V+ border spreading device which can be set to an unprecedented degree of accuracy.
ZA-TS mounted spreader
High-output spreader in working widths of 18 to 54 metres and hopper capacities of 1,700 to 4,200 litres. Equipped with an integrated, electro-mechanical TS border spreading system.
The ZA-TS large area spreader for working widths of 18 to 54 m is equipped with a precision spreader unit with integrated AutoTS border spreading device. The AutoTS border spreading functions provides an accuate trajectory of the spread pattern resulting in optimum growth conditions right up to the field's border.
ZA-TS with Argus Twin
One innovation with far-reaching consequences with regard to the radical improvement in operating comfort and work rates is represented by the Argus Twin Technology.
With the Argus system, the constant monitoring of the spread fan to automatically regulate the lateral distribution is based on radar technology that is independent of dust and pollution and which provides reliable results in practice. For the 2016 spring season, the new Argus Twin will be offered on the ZA-TS ISOBUS spreader. Argus Twin monitors, via radar sensors above both the left and right hand discs, the spread fan and readjusts the electric delivery system independently to each other if necessary.
 For more information please contact our agricultural sales team.