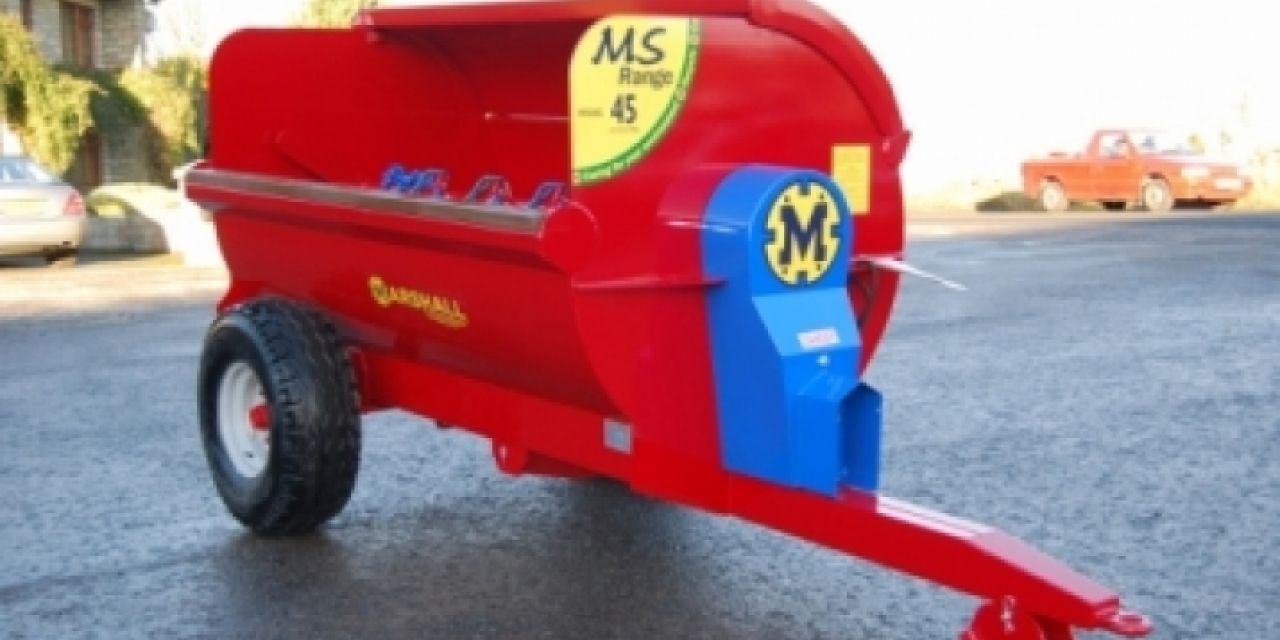 MS Muck Spreaders
The chains used in this model are case hardened flail chains with fully-welded heads, not simply held on with a bolt or pin; this significantly reduces wearing of the chains and chain heads. Furthermore this model moves up to a 14mm chain head to ensure that the high build quality is maintained throughout our muckspreader range. The chains are also mounted on four sides of a perfectly balanced main rotor, to help create a more even spread pattern.
The sprockets used in the spreader are precision steel sprockets, not cast, located to the shaft by a 10 pitch spline. These sprockets are much stronger than cast sprockets and reduce the chance of component failure, prolonging the life of the spreader. The MS105 model uses duplex sprockets and chains to guarantee the spreader can cope with the demands placed on it. In addition the bottom input shaft is mounted by two bearings and the drive sprocket is positioned between them for maximum strength, further reducing the chances of component failure. All bearings on Marshall spreaders are also mounted away from the drum limiting the potential damage from corrosive slurry.
The spreader lid is opened by a hydraulic ram which is made from stainless steel to eliminate corrosion. The lid itself is extremely large allowing easy loading with today's larger loading forks and grabs. It is also worth noting our lids open vertically so the muck does not have to be edged in.
The overall strength of the spreader is further enhanced by the Marshall integral chassis design that has been used for over 30 years. This removes any stress on the drum of the spreader that could potentially cause premature cracking.
MS45 is the entry level Marshall spreader, but it is still built to the highest standard like  all Marshall products.
MS60 is an ideal size for use on small-holdings or on farms with steep ground where larger spreaders could potentially be unsafe.
MS75 is our most popular rotor-spreader model, combining a reasonable carrying capacity with usability. The 65hp requirement for the towing vehicle means that the majority of tractors are able to handle this model, even on steep ground.
MS90 has a more heavy-duty build than the smaller models in our muckspreader range. This is to ensure that it can handle effectively handle the work that a spreader of its size is expected to carry out.
MS105 is the largest model in our side-discharge muckspreader range, and is designed for spreading significant quantities of muck without any hassle.
Precision steel sprockets (not cast) located to the shafts by a 10 pitch spline
The bottom input shaft is mounted by two bearings and the drive sprocket is positioned between them.
All bearings are mounted away from the drum limiting potential damage from corrosive slurry
A round perfectly balanced main rotor shaft with chains mounted on four sides
All our flail chains are over-engineered for the task at hand. They are case hardened to greatly reduce wear and the heads are fully welded on, not just held on with a pin or bolt. large 3"x 2" heads (ensures a fast efficient spread rate)
Brakes and lights come as standard on all models (except MS45). This ensures the spreader complies with both highway and health & safety laws.
The spreader lid is opened by a hydraulic ram which is made from stainless steel to eliminate corrosion. The lid itself is extremely large allowing easy loading with today's larger loading forks and grabs. It is also worth noting our lids open vertically so the muck does not have to be edged in.
Integral design chassis has been part of the Marshall spreader for over 30 years (ensures no fatigue that can produce premature cracking of the body)
Genuine Marshall Spares – a full collection of spares are available for all models in the range
Model
Axle
Load height
Volume capacity
Chain flails
Hydraulic brakes
Tractor
MS45
60mm 6 stud
49"
4.5cu.yds /.4cu.mtrs / 750gal
22
Optional DF-1.5
30hp
MS60
70mm 6 stud
51"
6cu.yds / 4.6cu.mtrs / 1000gal
28
Standard
55hp
MS75
58"
7.5cu.yds / 5.7cu.mtrs / 1250gal
65hp
MS90
59"
9cu.yds / 6.9cu.mtrs / 1500gal
34
85hp
MS105
80mm 8 stud
10.5cu.yds / 8cu.mtrs / 1750gal
40
95hp